| | | | | |
| --- | --- | --- | --- | --- |
| Specifications | P2.5 (semi-outdoor) | P2.5 (indoor) | P2.0 (indoor) | P1.75 (indoor) |
| Module size | 280mm*210mm | 280mm*210mm | 280mm*210mm | 280mm*210mm |
| Module resolution | 108X81 | 108X81 | 128x96 | 160x120 |
| Full screen resolution | 157464 points/unit | 157464 points/unit | 221184 points/unit | 345600 points/unit |
| Maximum white balance brightness | ≥3100cd/m | ≥1100cd/m' | ≥1100cd/m | ≥1100cd/m |
| gray level | 16bits | 16bits | 16bits | 16bits |
| best sight distance | ≥3M | ≥3M | ≥3M | ≥3M |
| Viewing angle | Level:≥160 Vertical:≥16o* | Level:≥160 Vertical:≥16o* | Level:≥160 Vertical:≥16o* | Level:≥160 Vertical:≥16o* |
| scanning method | 1/27 scan | 1/27scan | 1/32scan | 1/40scan |
| frame rate | ≥60HZ | ≥60HZ | ≥60HZ | ≥60HZ |
| refresh rate | ≥3960HZ | ≥3960Hz | ≥3960Hz | ≥3960HZ |
| way to control | Mobile APP (WiFi) | Mobile APP (WiFi) | Mobile APP (WiFi) | Mobile APP (WiFi) |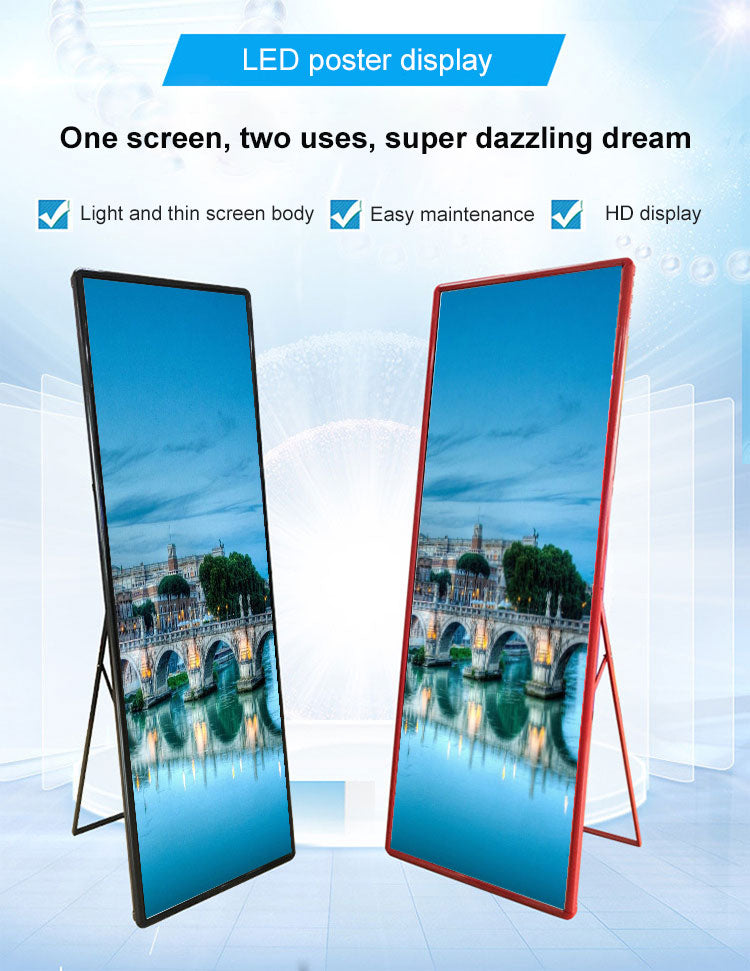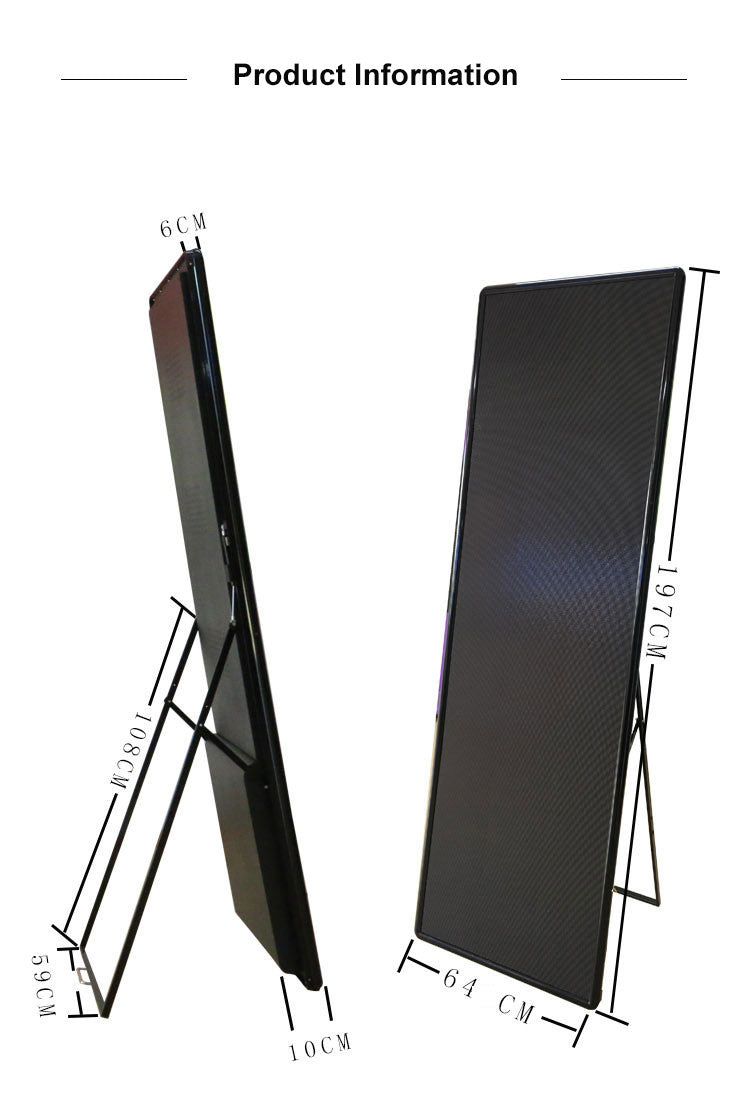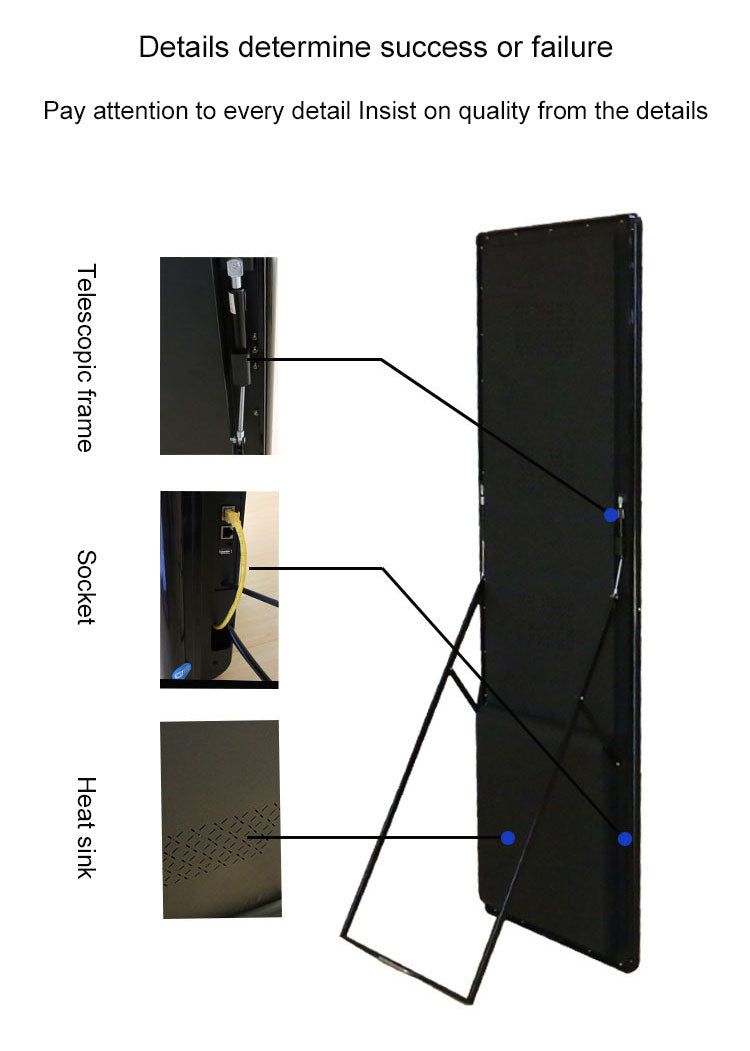 Why more and more people are choosing Led Poster Screen?
1. High Visibility and Attractiveness
LED poster screens offer bright and vibrant displays, making them highly visible even in well-lit environments. The dynamic content and eye-catching visuals help attract attention and engage viewers effectively.

2. Energy Efficiency
LED technology is known for its energy efficiency, consuming less power compared to traditional lighting methods or display technologies. This makes LED poster screens a cost-effective option for continuous use.

3. Flexibility in Content
LED poster screens allow for dynamic content and easy updates. Users can change the displayed content remotely through various methods, such as USB, Wi-Fi, or cloud-based software.

4. Space-Saving Design
LED poster screens are typically thin and lightweight, making them space-efficient and easy to install in various locations, including retail stores, malls, airports, hotels, and other public spaces.

5. Durability and Longevity
LED technology is robust and durable, providing a longer lifespan compared to other display technologies. They can withstand frequent on-off cycles, making them suitable for 24/7 operation.

6. Wide Viewing Angle
LED poster screens offer a wide viewing angle, ensuring that the content remains clear and visible to viewers from different positions and perspectives.

7. Environmental Considerations
LED technology is environmentally friendly compared to traditional displays that contain hazardous materials like mercury. LED poster screens produce less waste and have a lower impact on the environment.

8. Real-Time Content Updates
Businesses can display real-time information, such as promotions, news, or event schedules, on LED poster screens, allowing them to stay up-to-date with their customers.

9. Interactive Capabilities
Some LED poster screens come with touch-screen capabilities, enabling interactive experiences for users. This feature is especially valuable in certain applications like wayfinding or interactive advertisements.

10. Modern and Futuristic Appeal
LED poster screens exude a modern and futuristic vibe, which can enhance the aesthetics of commercial spaces and capture the interest of tech-savvy consumers.