| | |
| --- | --- |
| | |
| | thinkness insulation EPS sandwich panel |
| | thinkness fire protection MGO board |
| | |
| | As requested, sliding glazing window with lock |
| | Lighting + socket + switch |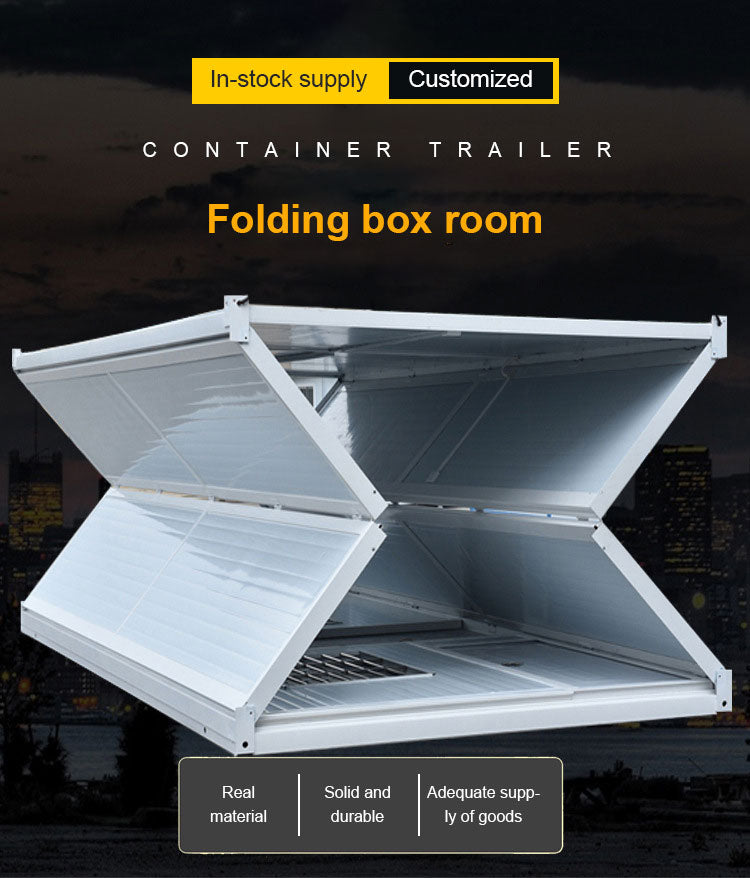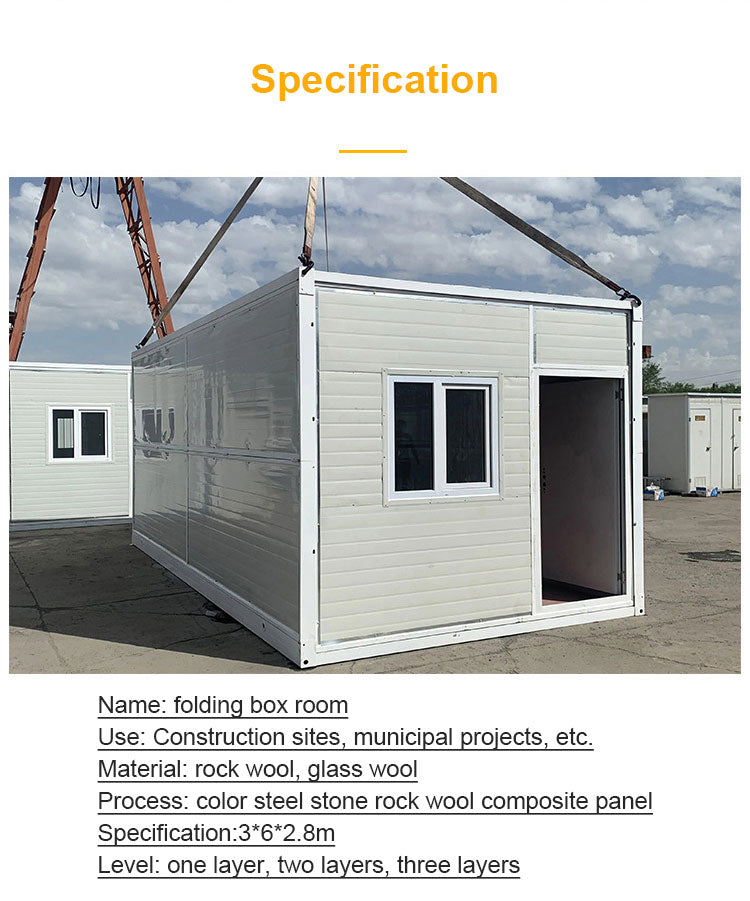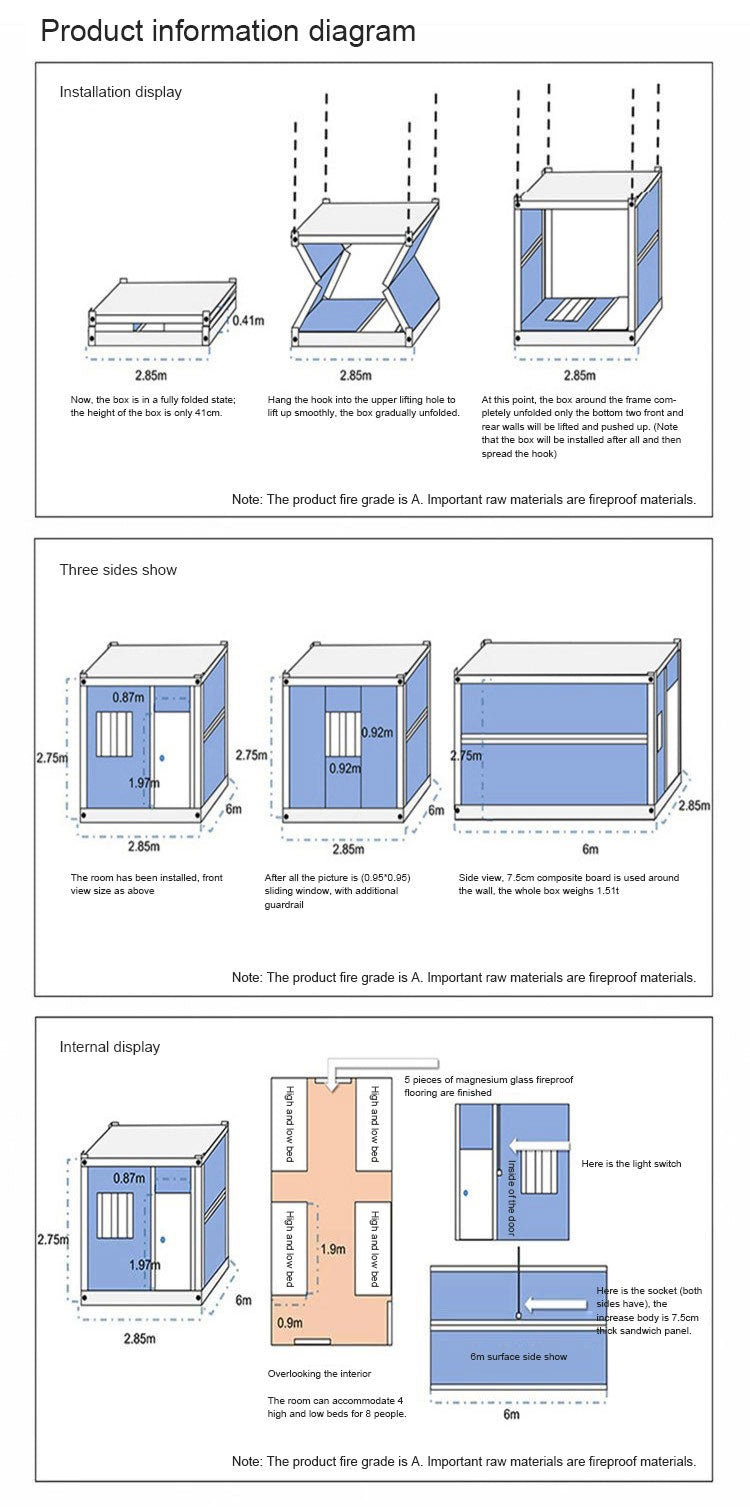 Compact living made easy: the advantages of a collapsible home

Collapsible homes offer numerous advantages, making compact living easy and desirable. Here are some key benefits of collapsible homes:

1,Space Optimization
Collapsible homes are designed with space optimization in mind. Their innovative folding and expandable features allow for efficient use of limited space. Residents can enjoy a comfortable living environment while maximizing the available square footage. This is especially valuable in densely populated urban areas where space is at a premium.

2,Flexibility and Adaptability
Collapsible homes provide the flexibility to adapt to changing needs. The ability to expand or contract the living space allows residents to customize their home based on their requirements. For example, extra space can be created for hosting guests or accommodating a growing family, and it can be scaled down when not needed, reducing energy consumption and maintenance costs.

3,Portability and Mobility
Collapsible homes are often designed to be easily transported. They can be folded, disassembled, and moved to different locations, offering the freedom to live in various environments or follow personal and professional opportunities. This mobility is particularly attractive to those who value a dynamic lifestyle or have a need for temporary housing.

4,Cost-Effectiveness
Collapsible homes can be a cost-effective alternative to traditional housing options. Their compact size requires fewer building materials, resulting in lower construction and maintenance costs. Additionally, their portability can eliminate the need for purchasing new property, reducing expenses associated with land acquisition.

5,Sustainable Living
Many collapsible homes incorporate eco-friendly features. They often utilize sustainable materials, energy-efficient systems, and renewable energy sources. By reducing the ecological footprint, collapsible homes contribute to a more sustainable and environmentally conscious way of living.

6,Quick Assembly and Disassembly
Collapsible homes are designed for efficient and rapid assembly. With standardized components and streamlined construction methods, they can be set up quickly, saving time and labor costs. This is particularly advantageous in urgent housing situations or when temporary accommodations are needed.

7,Design Creativity
Collapsible homes offer opportunities for innovative and creative design solutions. Architects and designers can experiment with unique layouts, modular components, and aesthetically pleasing features. This allows residents to enjoy a personalized and stylish living space, tailored to their preferences and lifestyle.

As with any housing concept, collapsible homes may face challenges related to durability, structural integrity, and building regulations. However, ongoing advancements in design and construction techniques are addressing these concerns, making collapsible homes an increasingly viable and appealing option for those seeking compact and adaptable living spaces.