| | |
| --- | --- |
| | Double-sided transparent display |
| | |
| | |
| | |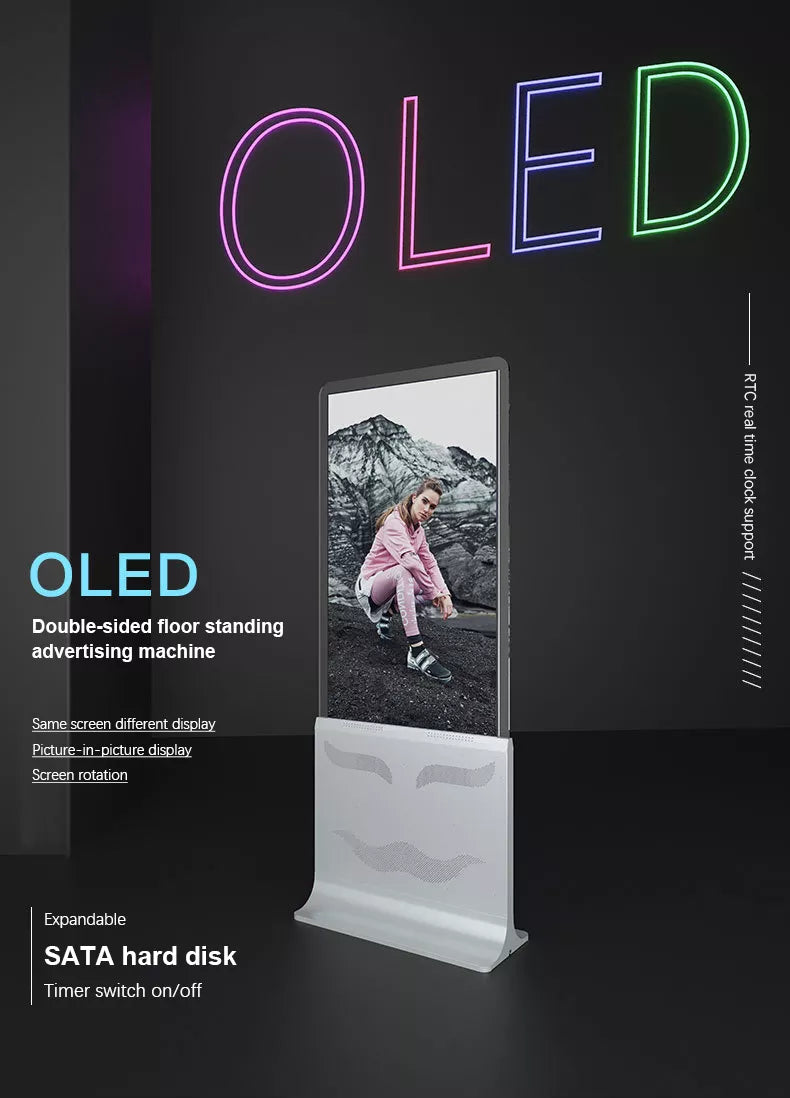 Why more and more people choose transparent double-sided advertising display
transparent double-sided advertising displays were gaining popularity for several reasons:

1. Aesthetics and Design
Transparent double-sided displays have a modern and futuristic appearance. Their see-through nature allows them to blend seamlessly into various environments, making them visually appealing for advertisers and property owners.

2. Space-saving
These displays are compact and do not obstruct the view of the surroundings. They can be installed on windows or glass surfaces without blocking natural light, making them ideal for places where space is limited.

3. Dual Visibility
Being double-sided, these displays can show content to both sides simultaneously. This means they can reach a larger audience as people on either side of the display can view the advertisements.

4. Interactive Potential
Some transparent double-sided displays come with touch-screen functionality, enabling interactive advertising experiences. Passersby can engage with the content directly, increasing the effectiveness of the advertisements.

5. High-Quality Visuals
As technology advances, the quality of transparent displays has improved significantly. They can showcase high-definition content with vibrant colors, enhancing the overall advertising experience.

6. Flexibility and Versatility
Transparent double-sided displays can be used in various settings, such as retail stores, shopping malls, museums, airports, and office buildings. Their versatility makes them suitable for different types of businesses and advertising campaigns.

7. Attention-Grabbing
The novelty of transparent displays tends to capture people's attention. As a result, these displays can stand out in crowded areas, increasing the chances of delivering the advertising message effectively.

8. Brand Image
By using innovative advertising methods like transparent double-sided displays, businesses can project a forward-thinking and tech-savvy brand image, appealing to modern consumers.

9. Environmental Considerations
Like elevator LCD advertising displays, transparent double-sided displays can be more eco-friendly than traditional print advertising since they reduce paper waste and printing materials.

10. Real-time Updates
With the ability to connect to the internet, these displays can show real-time information and updates, making them relevant and engaging for the audience.