IS THE SCREEN IN DIRECT SUNLIGHT?
With over 15 years of experience in supplying specialist projection materials, we have multiple options for projection solutions that are unaffected by sunlight. Usually in situations where the screen is hit directly by sunlight the first choice of technology would be an LCD or LED screen, however our ambient light rejecting screen outperforms competing technologies with less of the hassle. Our ALR front projection screen is manufactured with a light rejecting filter, blocking more than 85% of external light, producing a HD/4K image in extremely bright lighting conditions. Not only is this projection screen designed to work at optimal quality in sunlight, but it's also designed specifically for use with ultra-short throw projectors, making it ideal for projects with limited space.
 WILL THERE BE TRAFFIC BETWEEN THE SCREEN AND PROJECTOR?
It's important to consider the setting in which the display will be used, for instance front projection can be more difficult to accommodate a presentation due to movement between the screen and projector interrupting the image. In environments where the audience will be seated like in the meeting room of Bloomberg's offices, our Ultra Gain Projection Film is ideal. Offering a highly reflective projection surface our Ultra Gain film provides exceptional brightness, contrast and resolution in high ambient light and daylight. This technology makes our film the perfect solution for classrooms, meeting rooms and also suspended displays where the image isn't interrupted, working at a superior level in brightly lit environments with no need for controlled lighting.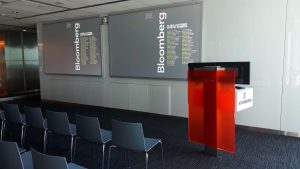 For applications that need to accommodate the presence of traffic, our ALR screens provide a stunning 4K quality image with a minimal throw distance. Designed to be used with UST projectors and edge blending technology, these modular screens can be combined to create eye catching large format projection walls that can be used for presentations, exhibitions, and visitor attractions.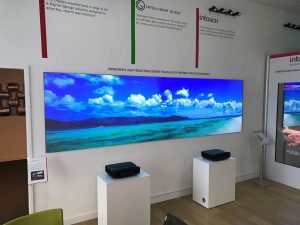 DOES THE SCREEN NEED TO BE EASILY ADAPTABLE?
Not all applications are straightforward, in some case a static screen can even be seen as a hinderance, luckily we have some versatile projection displays that can easily adapt to suit your requirements. One of our newest projection technologies, the Clearvision Transparent Front Projection Film, is a transparent UST display that offers a peppers ghost style image. This visual effects screen is a popular choice for museums and live events, with its content almost appearing to float in mid-air. Our Clearvision screens and film are also dual image meaning the content on screen can be appreciated from both sides, ideal for immersive experiences. This semi-transparent screen allows visibility through the surface when projected onto as well as when not in use making it perfect for multifunctional spaces.
 An alternate front projection solution that "disappears", is our Switchable Front Projection Glass and Film Screens. When turned off our switchable technology offers a HD/4K quality projection surface, when turned on it offers transparency or a peppers ghost style image if projected onto. This is a great way to make the most out of existing partitioning or to create bespoke event displays throughout the year. This technology was applied to great effect in the head offices of Cirque Du Soliel in Canada, used on the top floor opposite the adjacent windows meant the projection could be seen for miles outside of office hours and during the workday could be switched to clear to keep a brighter, more stimulating environment for the workforce.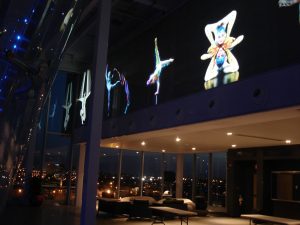 HOW BIG IS YOUR SCREEN?
The scale of your screen affects which solutions are viable for your project. As mentioned earlier, popular screen technologies like our Ultra Gain and ALR Screens can be used in a modular format to create large format projection wall systems, with the ALR screens short throw compatibility limited by size. As standard our front projection screens are available in sizes up to 134", but if you're looking to complete a more ambitious install, for instance a building sized display, our projection mapping film may be better suited. Our Projection Mapping Film can be applied to the internal glazing and projected onto from outside to create huge, animated facades like the one seen at ISE 2019, where we helped to turn 392 windows of the Amsterdam nHow hotel into a crowd-stopping advertising display.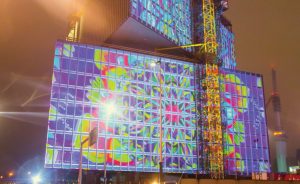 For applications where space is at a minimum, you can maximise the display space using our Dual Image Projection Screen. Both sides of the screen offer a HD/4K projection surface, allowing you to project onto it from either side to show 2 different sets of content. These screens are used most frequently as suspended displays and are best suited to exhibitions, shopping centres and atrium spaces that need to promote multiple messages simultaneously.