LED WINDOW DISPLAYS
Whilst window displays are designed to attract customers, many stores still heavily rely on the light coming from the shop front to illuminate the space, meaning any form of digital signage needs to support this. With traditional LED displays, a screen covering the entirety of the window would have blocked any light and view into the store, however, our unique LED solution provides the best of both worlds.
Our Transparent LED Screens offer a retrofit solution that fits directly behind your window, creating an eye catching display without blocking the view. Offering a brightness up to 5000cd per m2 and transparency up to 85%, our Transparent LED's fit together modularly to create holo-effect LED walls on a massive scale. These displays are available with a range of pixel pitches, offering a solutions that can be appreciated from up close or at long distance. We find the Transparent LED screens to be most popular in applications that lack the expected floor space for window displays or in buildings with heavily glass-based architecture, with these transparent screens easily fitting into the frame of the window with a minimalist finish that offers maximum impact.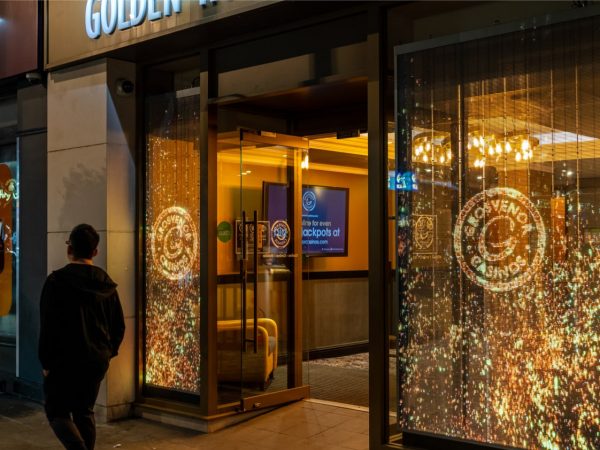 These screens we're used to great effect at the Golden Horseshoe Casino, who used our Transparent LED Screens to entice passing traffic. The atrium lacked floor space and needed a solution where the view from both sizes wasn't restricted. They chose to use a mixture of holo effect and striking content using the brand colour palette on both transparent screens, creating a display that was eye catching without being overwhelming.
MIRRORED LED SCREENS
With the Magic Mirror becoming increasingly popular across the entertainment and retail sectors, it might be difficult to see how this can be improved with LED technology. Whilst standard Mirror Displays are incredibly effective, the larger the displays become it can be harder to ensure the image has the same impact across the screen especially in certain lighting environments. In video wall applications that experience high ambient lighting, a Mirror LED screen is ideal.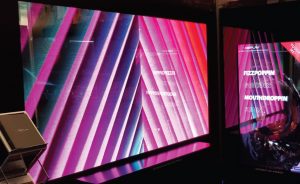 Our Mirror LED walls are available in pixel pitches as small as 0.9mm, creating a large format display that can be highly reflective as well as high in brightness and quality. In LED screens each pixel is individually lit making the contrast against the reflective overlay much stronger, whilst balancing the image out across the display to combat glare and reflectivity from other light sources. These screens are perfect for integration into retail, events and hospitality industries, offering a range of mirrored coatings to suit the individual application.
OUTDOOR LED DISPLAYS & PERIMETER SYSTEMS
Perhaps one of the most commonly seen types of large format display are outdoor LED displays. These are usually found as billboards like in the infamous times square or in sports stadiums, outdoor concerts or events. Our outdoor LED screens offer superior contrast and viewing angles, coming complete with a control system and basic operating software that's straightforward to use. Available in pixel pitches from 4mm to 20mm, these displays can be seen from miles around and are built to withstand all weather conditions with their IP65 waterproof rating.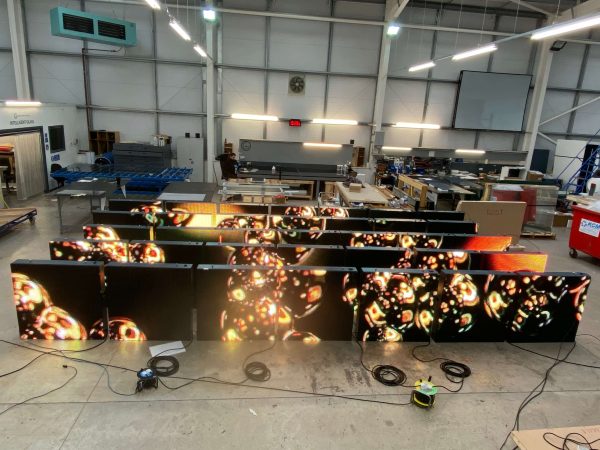 Specifically designed for sporting events, our LED Perimeter systems offer the best in game day advertising. Boasting 6000nit brightness our perimeter displays are unphased by sunlight, making them a reliable solution for TV broadcast applications. These quality LED systems are shipped in a programmable module format with rear access for easy service and maintenance and can be joined to fit perimeters of any length. Our LED Perimeter was chosen for use in a prestigious football match between Manchester United and Al-Hilal of Saudi Arabia. The game featured some of United's finest including Cristiano Ronaldo and Wayne Rooney, with our perimeter system providing bright, full colour video advertising to the 65,000 fans throughout the match.