TRANSPARENT PROJECTION FILMS & SCREENS
Arguably our most popular transparent technology, are our Transparent Projection Films and Screens, Clearview used for Rear Projection and Clearvision used for Front Projection applications. Available as an Acrylic rigid screen, we also offer our Clearview and Clearvision technology in the form of a self-adhesive film that can be retrofit to any existing glass surface.
Our Clearview Rear Projection Film is incredibly successful, lending itself as a HD/4K quality projection screen that can be used to produce a holographic peppers ghost effect, whilst also being completely transparent when not projected onto. We've seen our holographic effect screens used as a key component of the 83rd Academy Awards stage design as well as in Halsey's performance at the 2018 MTV Awards. In addition to this, our Clearview film has also had stints in multiple Hollywood blockbusters including Transcendence (2013) and Guardians of the Galaxy Vol. 2 (2017).
Due to the continued success of our transparent rear projection technology and the incredible demand, last year we launched our

 

Clearvision Front Projection Film

 

and Screens. Our Clearvision technology is built on the foundations of its rear projection counterpart however this transparent front projection screen is dual image, producing a peppers ghost effect image on both sides of the screen. Our transparent front projection film is ideal for application to windows or glass facades where the effect can be enjoyed from both inside and outside the building.
TRANSPARENT LCD SCREENS
Coming in a close second to our holographic projection technologies, our selection of Transparent LCD Screens are a firm favourite in retail and leisure applications. In order to work Transparent LCD technology requires a powerful backlight to produce an image on screen, presenting solid black pixels of content as expected and rendering white content as transparent.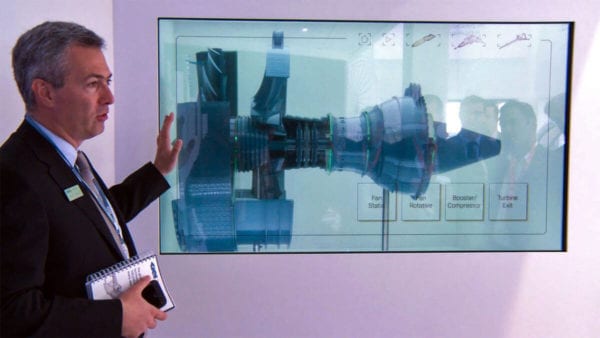 Traditionally Transparent LCD Screens are designed to be integrated into a full surround of housing to get the best performance, with us seeing our technology used in this way in many retail stores and even themed restaurants and unique exhibitions. After recent further research and development, we found that these screens can still operate at maximum potential without the constraint of a complete surround. We worked with Nike to bring their concept into reality with the end product being nine stunning Transparent LCD Display's that sit away from the wall, utilising an oversized abstract high brightness backlight and no housing, still producing crystal clear, HD/4K quality content.
As well as manufacturing screens designed for integration, we also offer

 

Transparent LCD Display Cases

 

providing a complete solution that's ready to go upon arrival. We can even create bespoke, unique housings that reflect your brand, working with you directly to create a solution that's completely unique to you. Both our Transparent LCD Screens and Display cases can also be granted touch capabilities to create a

 

Transparent Touch Screen, ideal for museums and visitor attractions giving guests a hands on experience.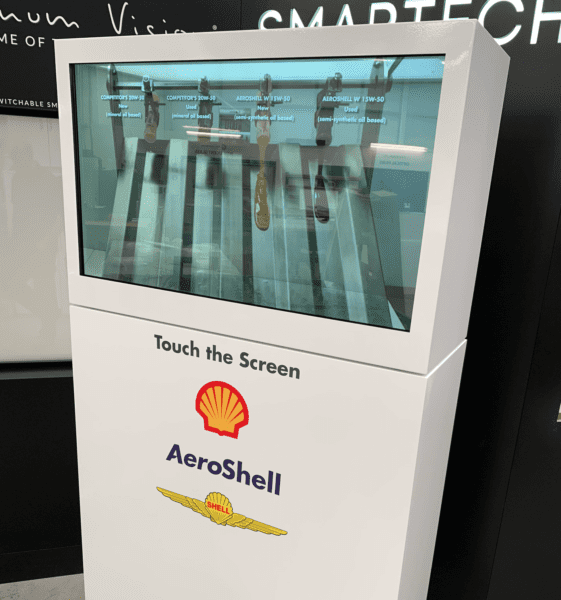 TRANSPARENT OLED SCREENS
Still fresh on the market, these incredible Transparent OLED screens are a rarity but when used have an undeniable impact on grabbing the attention of traffic. Unlike the Transparent LCD technology these screens operate without the need for a backlight or enclosure allowing them to be used virtually anywhere as they don't rely on any additional factors. Working in an opposite fashion to the similar LCD technology, the Transparent OLED's display black as transparent and white as a block pixeDue to them only being on the market for a short time, you can currently only get these displays are only available in a 55" 16:9 format, however there are many ways these screens can be used together to create larger displays. Despite showcasing a narrow bezel, the base of these screens is slightly bulkier due to it housing everything you need in order for the display to produce an image. This means to produce seamless effective screens the format can be no more than two in height/width. The screens can however be joined side by side or rotated and placed on top of one another to create long, mesmerising walls of content. You could even meet the two screens to create a point, producing a futuristic style display case where the lighting can be controlled.