When it comes to choosing the right projection screen there are lots of things that need to be taken into consideration in order to create an effective display. From factoring in the environment, to the size of your audience, we understand the logistics needed to create the best projection screen for you. With over 15 years of experience, we've provided projection solutions for product launches, awards shows and even Hollywood blockbusters, but amongst working on world renowned projects we've also perfected projection on a smaller scale creating versatile projector screens for window displays, boardrooms and even homes. Here we use our expertise to answer some of your most frequently asked projection questions to help you create the most effective display.
DO I NEED A FRONT, REAR OR DUAL PROJECTION SCREEN?
When choosing whether to opt for a front, rear or dual projection screen the first thing you need to consider is space. Front projection is traditionally more suitable for environments that lack the distance necessary for rear projection, but with the rapid advancement in ultra-short throw technologies the distance needed has been reduced massively, despite coming with a heftier price tag. We generally recommend using front projection in environments where the audience is seated, or the screen is suspended as to avoid interference with the image on screen. Our Ultra Gain screen is ideal for exhibitions and meeting rooms, offering HD/4K quality with exceptional brightness and contrast.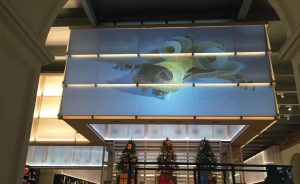 Our selection of rear projection solutions vary in appearance, making them ideal for a range of sectors and applications from screens that perform in direct sunlight, to transparent projection substrates. Most popularly we see rear projection used for window displays, as our films can be retrofit to existing glass surfaces but it is also commonly used for environments where there is traffic and movement in front of the screen. Usually, rear projection requires amicable throw distance behind the screen but our digital glass screens can support UST (ultra short throw) projection and can be manufactured in sizes up to 8m x 3m.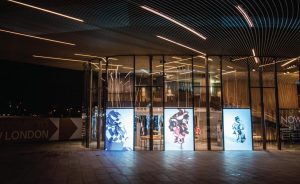 Dual image projection screens produce an image on both sides of the screen using a single projector, a great way to double your screen coverage for a fraction of the price. We see these screens used most effectively in museums and visitor attractions, often used to create immersive environments without the need for doubling up on displays. Our 360 dual image projection film was most recently used in the World Rugby Hall of Fame as part of the main attraction, where visitors could interact with the screens to display their favourite player and enjoy the content from all angles in the room.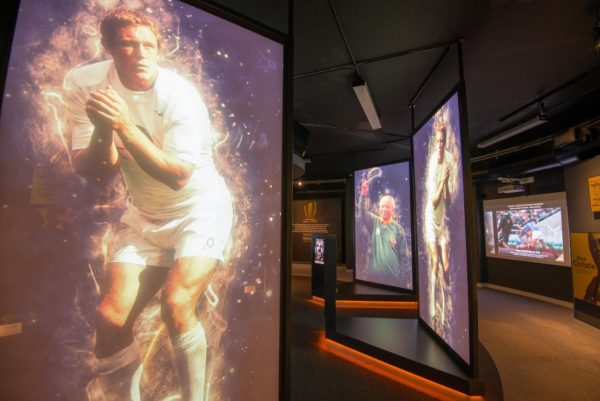 DOES MY PROJECTOR SCREEN NEED VERSATILITY?
The next question you need to ask yourself is does your screen need to be versatile, for example you might want to create an eye-catching window display, but you still want to be able to see through your windows. Our range of films and screens each boast unique qualities that make them better suited to certain environments, with our expert team on hand to advise which would be best for your project.
One of our most versatile rear projection screens is our Clearview Film, allowing users to maintain the transparency of the screen whilst projecting and also when not in use. This transparent rear projection film can also create a holographic/peppers ghost effect and has been used at the Oscars and MTV EMA Awards, as well as featuring in multiple blockbuster movies including Marvels Guardians of the Galaxy.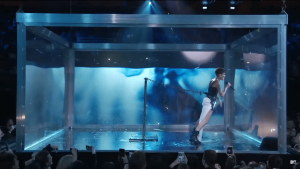 For an alternative flexible projection solution, our Switchable Projection Screens offer a 4K/HD projection surface when switched off and can 'disappear' by turning clear when turned on. This technology is popular for churches as it allows them to maintain the aesthetic of the building, and was notably used in Rolls Royce's launch of their Dawn Drophead Coupe at Harrods.
Perhaps the most 'flexible' of all of our projection screens is our PVC Fabric Projection Screen. This bendable projection surface is ideal for creating animated suspended displays, used best in environments with high ceilings for maximum effect. The malleable nature of our PVC projector material also allows for it to be tensioned to create stunning, Curved Rear Projection Screens like the one used in the academy award nominated film, The Midnight Sky.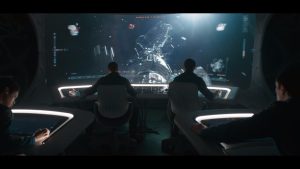 HOW BRIGHT IS MY ENVIRONMENT?
Lighting has previously been considered the downfall of projection technology, which is why our range of projection solutions are designed to combat this and perform at a superior level in daylight conditions. Our solutions expel the idea that a pitch-black room is essential for projection to work, with some of our products even performing in extreme environments.
Window Displays can often face issues when it comes to projection, whilst some are surrounded by controllable lighting many others suffer from high ambient lighting and even direct sunlight, causing many to opt for alternate LCD or LED technologies. However, our Sunscreen Rear Projection Film boasts a light rejecting filter that blocks more than 85% of external light to produce a HD/4K image even in direct sunlight, without the need for a high-powered projector. We also offer an Ambient Light Rejecting Front Projection Screen for ultra short throw and edge blending applications, where the screens can be joined to create unique aspect ratio displays with stunning Ultra HD images in extremely bright environments.
In displays where direct sunlight and glare isn't an issue, we've seen our Ultra Black, Pro Diffusion, High Gain and Clearview projection films used to great effect across a huge spread of market sectors, offering excellent colour reproduction, brightness and contrast in daylight and ambient lighting conditions. All of our projection solutions are manufactured to allow your projector to reach its maximum potential, creating incredible displays even with low power projectors.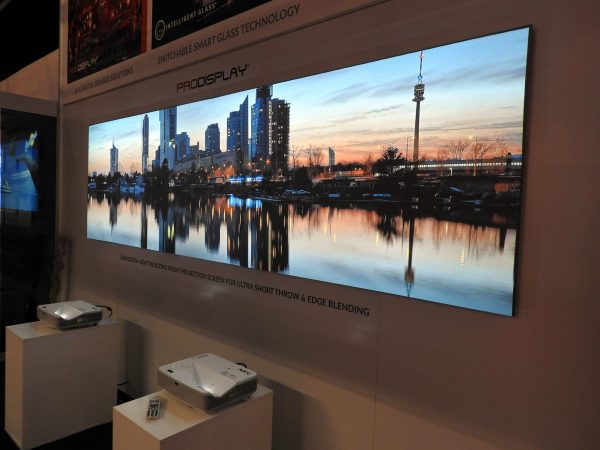 I WANT TO CREATE A HUGE PROJECTION DISPLAY, DO I NEED MORE THAN ONE PROJECTOR?
In short, the number of projectors needed is solely based on the space you have available in your environment. Generally the larger the screen the bigger the throw distance, even when using ultra short throw projectors you are limited to what screen size you can reach at a small distance. Our Rear Projection Screens are available in standard screen sizes up to 134" and our Digital Glass Screens are available as standard up to 185", all of which are designed to work using a single projector.
Our Rigid Large Format Screens are designed for use in attractions and TV studios and can be made in custom sizes up to 8m x 3m, commonly used with multiple projectors to achieve the best effect. This is made possible using edge blending software, which is also supported by our ALR Front Projection Screens which can be used in modular panels to create large format projection walls.
We even offer the means to create a building sized projection screen using our Projection Mapping Film, as seen on 392 windows of the nHow Hotel during the festivities of ISE 2019. A project of this size utilised 14 Panasonic's PT-RZ31K projectors to provide the necessary 400,00 lumens needed to create this jaw dropping display, with our projection mapping film applied internally to the windows of the hotel, offing the perfect canvas.